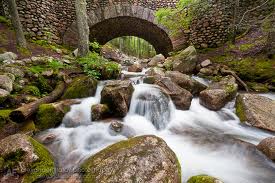 Bar Harbor & Acadia National Park
Just an hour north of our camp, the mountains meet the sea!
Acadia National Park
consists of over 47,000 acres and receives about 3 million visitors a year. This first national park east of the Mississippi boasts the highest point on the U.S. Atlantic coast, with Mt. Cadillac reaching 1,532 feet. You'll find vast and varied landscapes of mountains, woodlands, lakes, ponds, and the ocean shore, plus Acadia's famed stone bridges.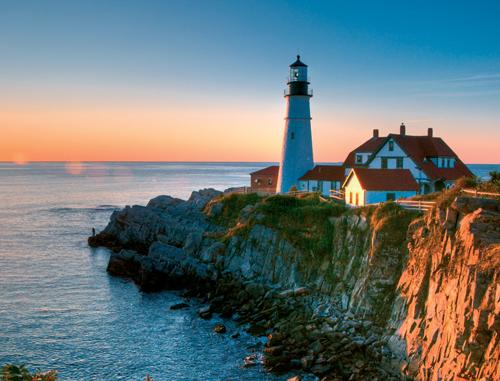 Lighthouses
About half a dozen are easily accessible within an hour's drive from our resort.
Ferries
The ferry from Lincolnville to Islesboro Island, runs on the hour throughout the day (duration: 20 minutes). The ferry from Rockland to Vinalhaven Island runs about six times throughout the day (duration: 75 minutes). Several other islands are easily accessible from Rockland's port, which is only 27 miles from Belfast.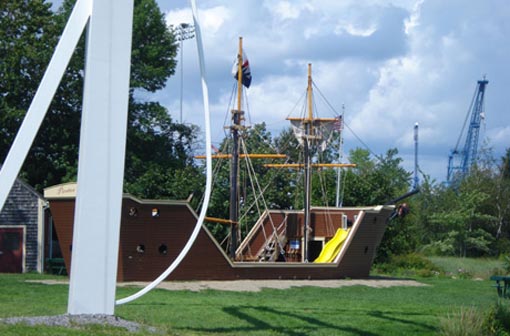 Museums
The Belfast Museum, which is open June-October, displays historical objects such as postcards, photographs, and maps. 
Penobscot Marine Museum
in Searsport, open from Memorial Day weekend to mid-October, features an historic overview of the once-popular local shipbuilding industry and the bustling port. 
Owls Head Transportation Museum
in Owls Head, open everyday all year long, is home to a large display of antique aircraft, automobiles, motorcycles, bicycles, and much more. Several other nearby museums, such as Seal Cove Museum and Farnsworth Art Museum, include antique cars and art.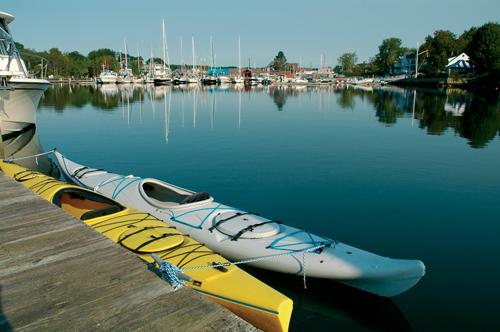 Antique/Craft Shopping
You're sure to find a trinket or a treasure to take home from Midcoast Maine. Choose from literally dozens of shops, flea markets and art galleries.
Sea Kayaking
This ever-popular sport is widespread throughout the state. Local guides lead excursions ranging from 2-3 hours to all day…or launch your own excursion from our shoreline!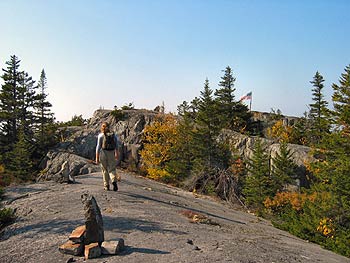 Hiking & Biking
Explore 30 miles of trails in
Camden Hills State Park
in Camden, over 50 miles of cycling trails in
Acadia National Park
, or easy afternoon hikes in nearby Moose Point State Park between Belfast and Searsport.  Or go back in time to when Maine was first discovered at the local
Sears Island
in Searsport.
Swimming
Belfast City Park offers an outdoor swimming pool,
Lake St. George offers a guarded swimming area in Liberty, Swan Lake in Swanville is a popular swimming hole… and of course there's the chilly Atlantic Ocean for the brave of heart!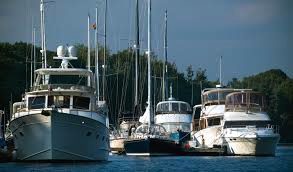 Fishing
Fresh or ocean? Brook trout, lake trout, smallmouth bass, or flounder? We can point you in the right direction! We have brochures in the office if you want a deep sea or lobster excursion…or how about a local fly fishing class?
The Outdoor Sportsman
in Northport offers courses in casting, knots, fly selection, and more. They also can answer any question about fishing in the area, direct you to the best locations, or go along with you. Get your fishing license there as well!
Boating Excursions
Choose from several different sailing and windjammer cruises. There are also whale-watching expeditions originating from Bar Harbor, only 58 miles away.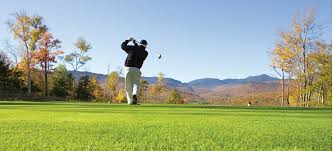 Golf
Several nearby nine- and eighteen-hole courses offer everything from breathtaking coastal fairways to tree-studded countryside views. Northport Golf Club, Searsport Pines Golf Course, Bucksport Golf Club, Goose River Golf Course, Rockland Golf Club and Samoset Resort, to name a few…
Camden
A picturesque tourist town, Camden has great restaurants, shopping and an artsy feel… it's definitely worth exploring! Drive south on Rt. 1 for about 20 miles and you'll run right into it.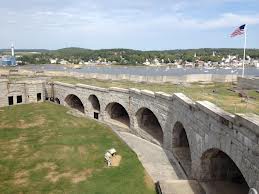 State Parks
Fort Knox State Park
in Prospect is near our camp. It offers an educational overview of how and why it was built during the mid-19th century, to thwart a third British invasion that never came. While you're in the area, enjoy the breathtaking view from the brand-new Penobscot Narrows Observatory, which opened to the public on May 21, 2007. 
Fort Point State Park
in Stockton Springs has an adjacent lighthouse and 154 acres to explore.
Festivals
Belfast's Arts in the Park, in early- to mid-July, displays local color, local flavors, and Maine's best artists. Surrounding communities such as Camden and Rockland have several festivals as well. You don't want to miss Rockland's Blues Festival in late July and its annual Lobster Festival in early August.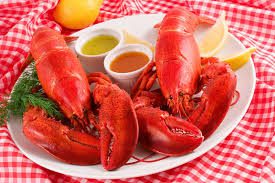 Beachcombing
Explore the coastline of our camp, and then visit other beaches such as Lincolnville Beach and those in Acadia.
Belfast Maskers
Enjoy a
local live theatre performances
in a former railroad depot on the waterfront in downtown Belfast.
Restaurants
Fine dining and casual atmospheres abound. Not sure what you're looking for? Thumb through our local menu selection or just ask us!Tides, Weather and Local Knowledge
Click HERE.