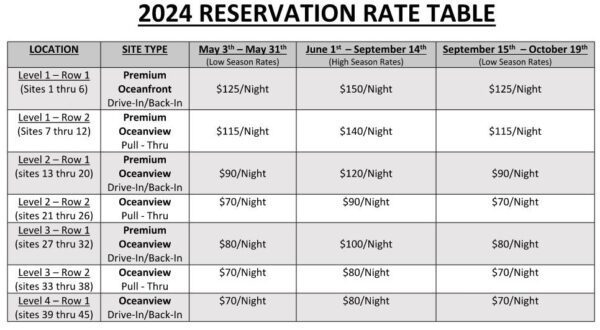 Rates shown in above table DO NOT include 9% Maine State Sales Tax.
ALL RATES INCLUDE water, electricity, sewer, high speed internet (data port/Wi-Fi), occupancy for two  adults and three children (17 and under) and one camping unit (RV) with one additional vehicle per site.
VISITORS: $3 per adult and $2 per child.  Overnight stays will be $10 per adult and $6 per child.
ADDITIONAL PERSONS PER SITE: $10 per adult and $6 per child. Note that the number of persons per site for overnight stay is limited to 8.
CHECK-IN: 1 PM or later.  Late arrivals after 6 PM need to call the office prior to arrival. (207-338-6860)
CHECK-OUT: No later than 12 NOON.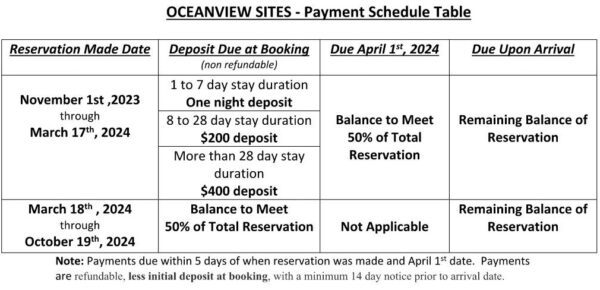 Reservation Terms
All reservations will require a NONREFUNDABLE confirmation deposit at the time of reservation depending on the date when the reservation is made. Refer to Payment Schedule Table.
**NONREFUNDABLE deposits and payments:** Any refunds for deposits and/or payments on any Drive-In/Back-In or Pull-Through site will be based on the re-booking of the site during the cancelled period less ONE NIGHT STAY (base rate). Refund amounts will be based on the 

site daily rate of the original reservation

.
Those FAILING to show up on their scheduled date of arrival (and/or early departure) will be charged the ENTIRE amount of their reserved stay.
Personal checks are accepted for all deposits provided that they arrive no more than 5 days from when the reservation was made and at least 14 or more days prior to the date of your arrival. We accept Visa, Discover, American Express and Mastercard credit cards.
During the off season (November 1, 2023 – May 01, 2024) credit card payments will incur a 2.5% fee added to the total transaction amount.  To avoid credit card fees during this time, checks can be mailed for payments.
FAILURE to pay installments by due dates will result in FORFEITURE of your reservation and deposit.  Refer to Payment Schedule Table for installment dates.
While Moorings II does not endorse any particular travel/trip insurance company, there are several on the market that can help you should you have to cancel your reservation.